A 17-story apartment tower that's under construction at 10th and Marquette Avenue will have 307 units, an outdoor pool, sauna and a fitness center.
It will also have a Minnesota cabin-inspired club room on the top floor with a gourmet kitchen, fireplace and views reaching the Mississippi River.
Dubbed City Club Apartments-Central Business District, the tower has been in the works for three years. Farmington Hills, Mich.-based City Club Apartments is the developer.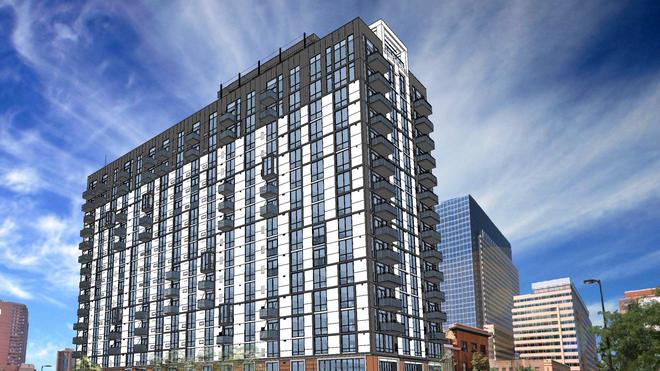 The 17-story tower is being built on the corner of 10th and Marquette Avenue.
City Club CEO Jonathan Holtzman said the units will be marketed to 20-somethings who make $45,000 to $65,000 annually. He says that demographic is being priced out of the downtown core.
To keep rents low, half of the units will be studios, but Holtzman said renters will be able to spend more time in the building's amenities or nearby restaurants.
"The young college graduate being hired by all these great Minneapolis/St. Paul companies, their starting salary is low $40,000," he said. "We've designed apartments that people earning $40,000 or $50,000 can afford.
City Club declined to say how much it will charge for rent.
The tower is under construction on the half-acre parcel that is next to WCCO-TV's backyard patio and behind Target Corp.'s employee club room. City Club paid $5.7 million for the property and the construction permit is valued at $52.3 million, according to city records.
City Club Apartments will incorporate the historic Handicraft Guild building into the tower. It will be repositioned as a 3,500-square foot, two-story restaurant space with an outdoor patio.
City Council Member Lisa Goodman praised Holtzman for incorporating the 1907 building that housed a women-led arts organization. She fought to get it historic designation 20 years ago.
"We were told at that time nobody would incorporate a historic building into new development — it's always about demolishing what's there and moving onto something new," she said. "Jonathan and his team have again proved the naysayers wrong."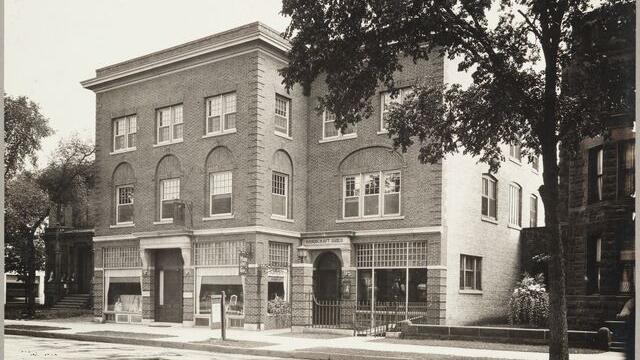 A historic photo of the Handicraft Guild building.
The name City Club Apartments is not familiar around the Twin Cities, but Holtzman's name is. He is the former CEO of Village Green Holdings, which has developed several apartment complexes around town. He sold his 50 percent stake in Village Green and launched City Club Apartments in 2016 along with Canadian investor and developer Alan Greenberg.
Village Green turned the downtown Soo Line building into a 254-unit luxury apartment tower and built the Mill District City Apartments at 225 Portland Ave., among others.
Village Green and Vadnais Heights-based Pratt-Ordway Properties had originally proposed the tower, but that was before Holtzman split from Village Green.
Construction is scheduled to wrap up spring 2019. Hopkins-based Frana Cos. is the builder and Minneapolis-based BKV Group is the architect.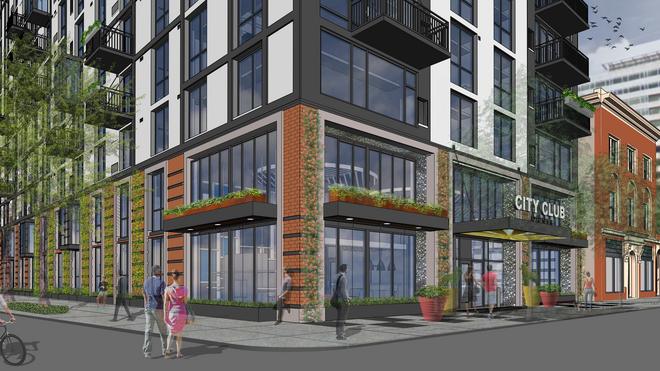 A street-level rendering of the building.
Read full article written by Nick Halter for BizJournal.com here.