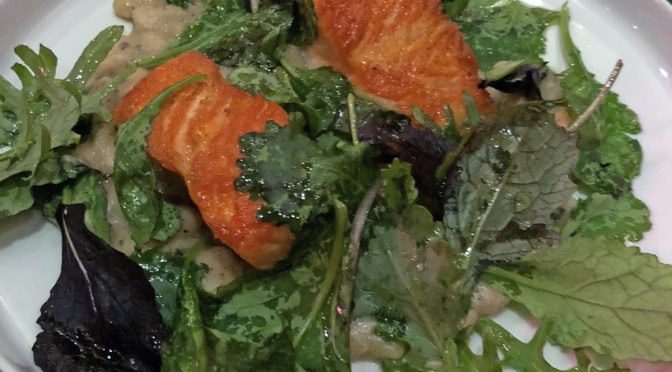 Who knew that a hot new eatery would bring Louisville rushing back to the old 800 Building? Old-timers might consider this unlikely, but the delightful bar Vetti (management prefers the lowercase "bar") fits nicely in the renovated turquoise tower.
The 800 caught the city's attention in a big way when it topped out in 1963. It was tall! At 29 stories and almost 300 feet, it was the tallest building in a city that didn't have all that many skyscrapers during the '60s. It was a striking modern aluminum curtain-wall high-rise … and did we mention that it was turquoise?
Unfortunately for the 800, two things happened pretty quickly after it opened for business: Downtown hollowed out, ravaged by white flight to the suburbs; and turquoise became oh, so '50s, just as the '60s were getting under way. Like an old harvest gold refrigerator repurposed as a rec-room bar fridge, the 800 stood hidden in plain sight for a generation.
But everything that is old becomes new again, and so has the 800, reborn under new owners as the upscale 800 Tower City Club Apartments, with the charming bar Vetti proudly occupying a first-floor corner. Chef Ryan Rogers, who brought us Royals Hot Chicken and the two Feast BBQ shops, and co-owner and executive chef Andrew McCabe, who's done kitchen time at Harvest and Proof, have been attracting steady crowds since bar Vetti opened in October.
They call it a "laid-back Italian spot," and that fits the bill of fare and intriguing Italian-style bar program, although there's a touch of Kentucky, too, when Broadbent country ham replaces prosciutto and a nice range of bourbons drops in among the amari and aperitivos.
We and our friends Bob and Sharon found street parking – the building's underground spaces are reserved for residents – and entered through the small front door facing Fourth on the corner closest to York.
The space is surprisingly small, seating about 50 in a tight 1,800-square-foot L-shape wrapped around a stylish bar. Decor is minimalist, with undraped black tables and simple but good quality white plates, silverware and glasses. Two glass outer walls shed abundant light by day; other walls are elegant white marble, evoking a hint of bar Vetti's namesake, Pompeii's Casa dei Vettii, a Roman home destroyed when Vesuvius famously erupted in 79 CE. A large pink neon bar Vetti logo hangs high on one marble wall, casting a warm pink glow over tables nearby.
The Italian-accented menu is fairly priced. After four starter "bites" ($5-$12), about 20 main-dish items are divided among plates ($11-$24), fresh, house-made pasta dishes ($17-$20), and pizzas ($15-19). bar Vetti opened at first for dinner only, but has since added breakfast, and lunch is coming soon.
A bowl of "flaming hot roasted" chickpeas ($5) didn't live up to the heat hype, but never mind: This generous portion of crunchy garbanzos tossed with Aleppo chili and bits of fennel may have been only gently spicy, but they were delicious, a great bar-food item.
Fritto misto ($10), pictdured above, was very well done, too. Onion rings, brussels sprouts, paper-thin sweet potato slices, broccoli florets and an entire leave of curly kale leaf were coated in feather-light batter and fried light, crisp, and not the least greasy.
Roasted cauliflower ($13) was amazing. Bite-size florets were lightly coated with herbs, spices and bread crumbs and crisply fried, mounded with a creamy seaweed-scented tonnato sauce and garnished with white grapes and golden raisins.
A trout plate ($23), pictured above, featured two square pieces of a pink, firm-fleshed boneless fish the color of salmon, plated with a vegetable mix that could have stood on its own as a veggie plate: Creamy, delicious butter beans were enfolded in a dewy blend of lemony Champagne vinaigrette flavored with black truffle and black butter over field lettuces.
Two pizzas the size of large dinner plates were both very good, built on thin crusts with good, thick bready edges. A Margherita pie ($15) featured a thin coat of mild, sweet tomato sauce topped with mozzarella and grated Parmesan and a few random basil leaves. A country ham pizza ($19) boasted an odd but flavorful combination of sweet and creamy mascarpone cheese, red onions, a smear of sweet-tart fig mostarda, a drizzle of balsamic, and fresh arugula leaves.
We thought we were too full for dessert, but two orders of ricotta bomboloni, Italian donut holes made with a tender, ricotta-laced dough ($8 each), went down fast.
Our share of dinner for two, including a gin spritz ($9) and Campari with soda ($10.50), was $85.33. That's it. Our competent servers Jamie and Alia would have earned a tip sufficient to take it over $100, but there's no tipping at bar Vetti. Taking its cue from Chef Danny Meyer's Union Square restaurant group in New York City – and, of course, restaurants in most of the rest of the world – tipping is neither encouraged or allowed. Rather, it's company policy "to pay all employees a competitive, professional wage." This is a worthy practice. May it continue and spread.
bar Vetti
800 S. 4th St.
883-3331
barvetti.com
facebook.com/barvetti
instagram.com/barvetti