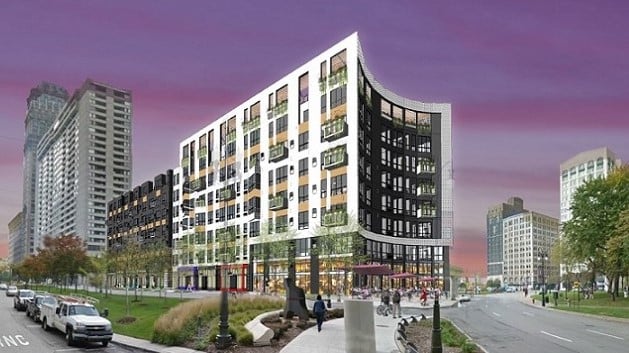 The city lost the historic Statler Hotel more than a decade ago, but hundreds of new apartments will take its place.
---
DETROIT—City Club Apartments broke ground yesterday on a project that will bring yet more rental units to Detroit's CBD, now one of the most active multifamily markets in the Midwest. Its City Club Apartments—Central Business District Detroit will provide 288 apartments and penthouses, as well as 13,000-square-feet of street level space. Mayor Mike Duggan and Detroit native Jonathan Holtzman, chairman and chief executive officer of City Club Apartments, were among the speakers at the event.
"This is a site of great historical significance and we take seriously our responsibility to deliver a special community to the city." said Holtzman. Located at the corner of Washington Blvd. and Park Ave. facing Grand Circus Park, the site was once home to the Statler Hotel. The historic 18-floor hotel, which was built in 1915, hosted a who's who list of business, sports, arts and entertainment and political guests for six decades.
"When the Statler Hotel came down over a decade ago, we lost a great building on one of the most exclusive corners downtown," said Mayor Duggan. "Now, thanks to City Club Apartments and our partners at the Detroit Economic Growth Corporation, this corner will be redeveloped in a way that will allow Detroiters of a range of income levels to call it home."
As reported in GlobeSt.com, Holtzman created the Farminton Hills, MI-based company last year by selling his 50% interest in Village Green Holding Co. to Compatriot Capital, Inc. Village Green specialized in transforming historic structures into luxury apartments and mixed-use communities. City Club Apartments now has a $500 million development pipeline, and plans to focus much of its attention in the near future on Midwest cities such as Cincinnati, Minneapolis, Detroit, and Kansas City.
"City Club Apartments" - CBD Detroit will combine the service and amenities of a five-star hotel with engaging and connected urban apartment living." added Holtzman. "The look and feel both inside and out will be stunning. We will be certified, not just "say" green. We will integrate advanced and high-speed fiber technologies. And, we will be immersed in the City of Detroit."