The abstract colorful shapes of artist and educator Beverly Fishman will soon be on full display in downtown Detroit, where they'll brighten a brutalist building as part of a massive mural.
Fishman, a longtime Cranbrook artist-in-residence who also heads the school's painting department, has designed a 170-by-60-foot mural set for the side of the City Club Apartments. "Rise" will bathe the side of the gray rectangular building with curvy shapes in yellow, blue, green, red, and purple.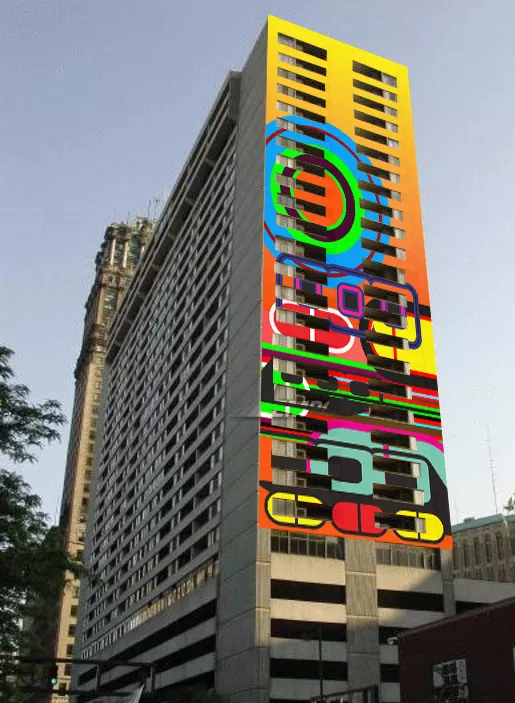 Courtesy of Beverly Fishman and Library Street Collective
The image will be executed by the Motown Sign Co., the same group behind the 118-by-50-foot Charles McGee piece located about a block away. It's being commissioned by the head of the company that owns the City Club apartments and will be painted over the course of the next month, as construction continues on a new residential and retail development by the same name next door.

"One thing that is a real driver of our brand is infusing art and design into all of our public spaces," City Club Apartments vice president of brand strategy told the Free Press.

Fishman is known for producing minimalist geometric art inspired by science — DNA, cellular imagery, pharmaceutical drugs — and her work has graced the walls of museums and galleries around the world.

For what appears to be her first foray into large-scale public art, the Free Press reports that Fishman considered how the colors and shapes of the piece would play on the rectangular building and, more broadly, downtown Detroit.