City Club Apartments Unveils New 23-Story High-Rise Plans in Downtown Cleveland
The "future of apartment living" comes to 776 Euclid Avenue with luxury entertainment and dining concepts in tow. Here's what to expect.
On Thursday, the private Detroit-based real estate owner, developer and operator City Club Apartments hosted a "Topping Off" event for its 23-story high rise.
Located on 776 Euclid Ave., the mixed-use building preps to be not only an upcoming go-to for apartment-seekers, but a community hub offering a multi-level restaurant and speakeasy, cozy lobby cafe and wine bar, Sky Club cafe, and doggie daycare.
"It is so exciting to see the evolution of downtown Cleveland's skyline," says Mayor Justin M. Bibb. "Our city is open for business and we have so many incredible things happening here. We are laying the groundwork for a city where people can live, work, eat, and play."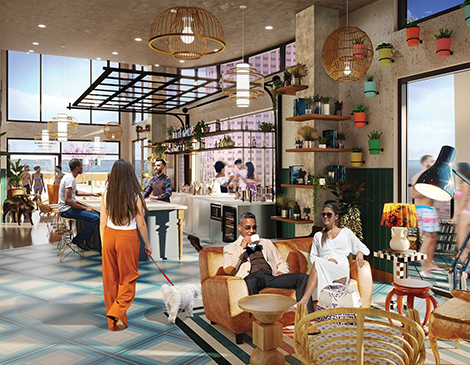 To celebrate the construction milestone and launch the opening of the pre-leasing center, city officials and project representatives enthusiastically shared their hopes for the towering structure's future. The common thread: keeping young people around and active within Cleveland's community.
City Club Apartments CEO Jonathan Holtzman paints a picture of this by describing what he calls a day in the life of the 23-story high-rise resident. "I'm going to get up and go to work. I'm going to walk to work, or I'm going to ride my bicycle to work. I'm not going to have a car, the car needs to go away, right? Then, I'm going to come home and go to the restaurant, the cafe, oh, and before [residents] go to work in the morning, they are going to drop off the dog and visit the coffee shop."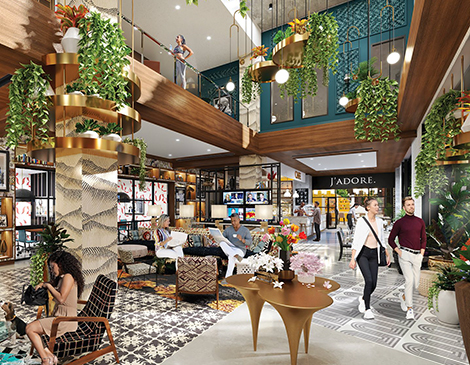 Conference rooms will be available, as well as an indoor/outdoor movie theater and a rooftop pool for added entertainment. "On the weekend, it's food and entertainment. Everybody says in Cleveland, Ohio, nobody wants a swimming pool. Well, that's not true. That's the competition saying that because they don't want to build one. Trust me. Young people want a swimming pool."
"In my mind, for this building, you can work 24/7. It will be the first wellness-certified building in Cleveland, the first tech-certified building, first clean-rated certified building in Cleveland," says Holtzman. "This is a world-class building because you're a world-class city."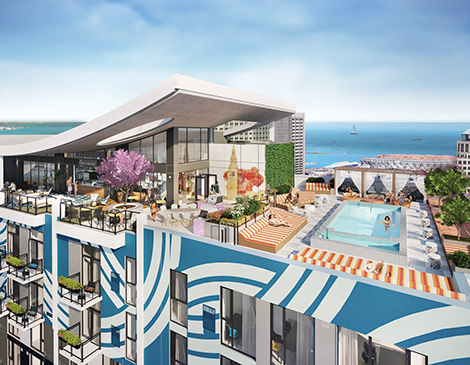 First residents, retail and restaurants will begin occupying in October of 2023.
Apartment Details
22-floor plans available

Units ranging from studios to three-bedrooms with dens and home offices

Bay windows, full balconies, and French balconies

36-inch soaking tubs and showers, 5-foot showers and 10-inch custom rain showerheads

Walk-in closets and storage space

Full-size washers and dryers

1GB fiber optic connectivity, TV and internet

Plank wood flooring and carpet

Granite countertops and island kitchens (movable multifunction)
Experiential Living Community Details
304 apartments to penthouses (long-term unfurnished, or short-term CCA furnished suits)

23 stories with 9-foot to 12-foot ceilings

24-hour service guarantee

Parking is available to lease in sky bridge connected parking garage

J'adore multi-level restaurant and outdoor dining concept

L'Ecrin Vert (The Green Box) speakeasy on the basement level with weekly entertainment

Cafe Tartine French-inspired lobby cafe and wine bar

Sky Club Cafe cocktail bar located within the Sky Club

Dogtopia doggie daycare, overnight and spa

Rooftop swimming pool, hot tub, sun loungers and cabanas

Indoor and outdoor theaters

24/7 fitness center (multi-function yoga studio, sauna, and wellness room)

Boutique hotel-style lobby library and lounge space